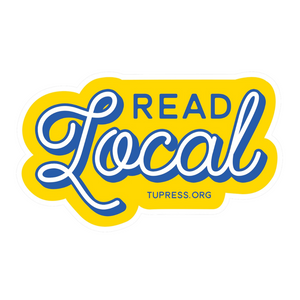 Read Local #StandWithUkraine Colors Vinyl Sticker
As we have watched the world react in condemnation of the Russia-Ukraine war over the past few months, like many in the publishing community, we have sought to understand how we might effectively offer help and support during the crisis. We have looked inward, locally, and outwardly to what we as a community can do to help. Whether that is looking to acquire books by Ukrainian writers or help raise money. In the long term, we are looking at ways to help keep Ukrainian voices from being silenced. But in the short term, we are offering a limited run of our ReadLocal stickers in the colors of the Ukrainian flag. All profits from the sale of these stickers will go to support the mission of Ukrainian San Antonio. They are a 501(c)(3) non-profit organization that works to preserve Ukrainian culture in the US and to provide charitable assistance to Ukraine during this time of need. Only $5, shipping in the U.S. included. Ships in two weeks.
These stickers work on water bottles, computers, and car bumpers. Designed by Sarah Cooper and printed and right here in San Antonio by Rockin Monkey.
4" x 2.5" vinyl stick. Easy to peel silicon coated backing paper protects the adhesive until you're ready to put your sticker on something. Your sticker won't come off in the rain, snow or the side of a boat! They can even be run through the dishwasher.
All profits go to the non-profit mission of Ukrainian San Antonio.